QUALITY FOR LIFE
AL-KO ESC The Latest In Caravan Towing Safety Technology
Introducing a revolutionary breakthrough in caravan towing safety - Electronic Stability Control (ESC) from AL-KO, the world leaders in caravan axles, brakes and components manufacture. This sophisticated electronic system, similar to ESC in cars, gives an assurance to drivers that even in the most difficult of driving scenarios, the stability of their caravan is being monitored and controlled, providing an unparalled level of safety and comfort during the journey. So whether you're swerving to avoid another vehicle, passing a semi-trailer or coping with side winds, you have the ultimate confidence that potentially dangerous conditions will be controlled smoothly and effectively by the AL-KO ESC. If you want real stability and control for your caravan, make sure you fit AL-KO ESC and check with your insurance company to see whether you can get a premium reduction. To see a video of this exciting new technology in action visit www.alkoesc.com.au
HOW ESC WORKS
The AL-KO ESC system is engineered to operate when it identifies critical driving situations - such as a build up of two small swings, or one large, sudden lateral movement. The lateral acceleration sensors inside the AL-KO ESC unit monitor for these repeated side movements or large swings. AL-KO ESC continuously evaluates the data and when critical lateral movements are recognised, ESC activates and applies the electric brakes immediately to bring the vehicle back into line in a smooth and controlled manner. AL-KO ESC is positioned behind the axle of the caravan or trailer at the point where lateral movement can be measured consistantly between different caravans.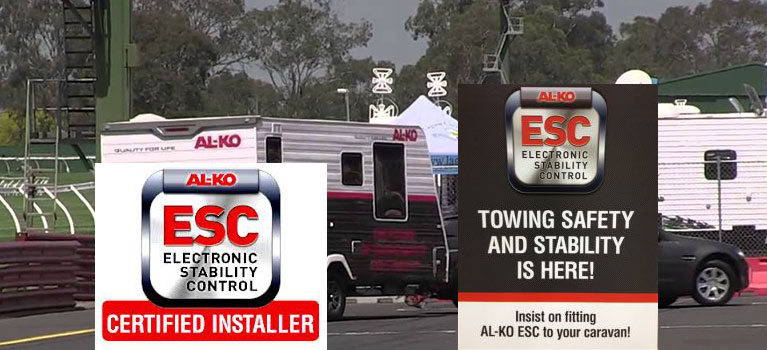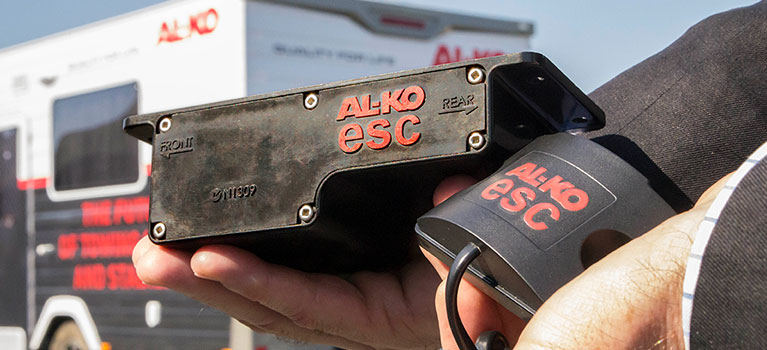 THE CAUSES OF INSTABILTY
Caravans and trailers can be subject to lateral movements due to a range of different circumstances, such as having to take evasive manoeuvres to miss a vehicle or animal that has suddenly appeared in the road ahead, in addition to high winds and difficult weather conditions, or buffeting from other vehicles using the roads. The sway effect, where the caravan or trailer is swinging from side to side behind the tow vehicle, can occur in these situations.
AL-KO ESC BENEFITS
Provides complete control in the event of unexpected driving hazards
Immediately applies the electric brakes in a smooth and controlled manner
Reacts faster than the driver could
Provides peace of mind on the road for you and your family
Your insurance company may provide an insurance discount
Revolutionary caravan towing safety technology